MICS: Imaging Instruments and Pricing
Instrument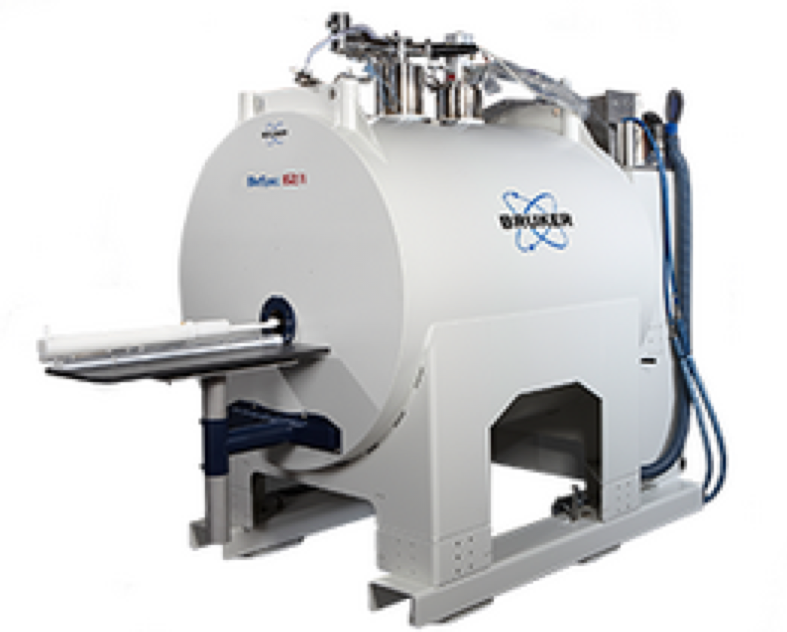 11.7 T horizontal Bruker Biospec MRI.
Capabilities
16 cm room temperature bore
Gradients with strength 750 mT/m, 90 mm clear-bore access
Laser guided motorized positioning system
Beds and stereotaxic hardware
Ambient temperature control and body temperature monitoring
Monitoring system for ECG and respiration triggering acquisitions
Multiple Bruker RF coils:

Circularly polarized

 

1H volume coil with inner diameter 38 mm (T12247V3)
Circularly polarized

 

1H volume coil with inner diameter 72 mm (T11232V3)
Body volume coil (T11440V3)
Surface array coil (T11766V3)
Surface array coil (T11473V3)
Double-tuned

 

1H/19F volume coil (T12800V3)
Double-tuned

 

1H/19F volume coil (RAPID Biomedical)
Double-tuned

 

1H/19F surface coil (T11620V3)
Double-tuned

 

1H/31P surface coil (T11619V3)
Double-tuned

 

1H/13C surface coil (T11618V3)
Instrument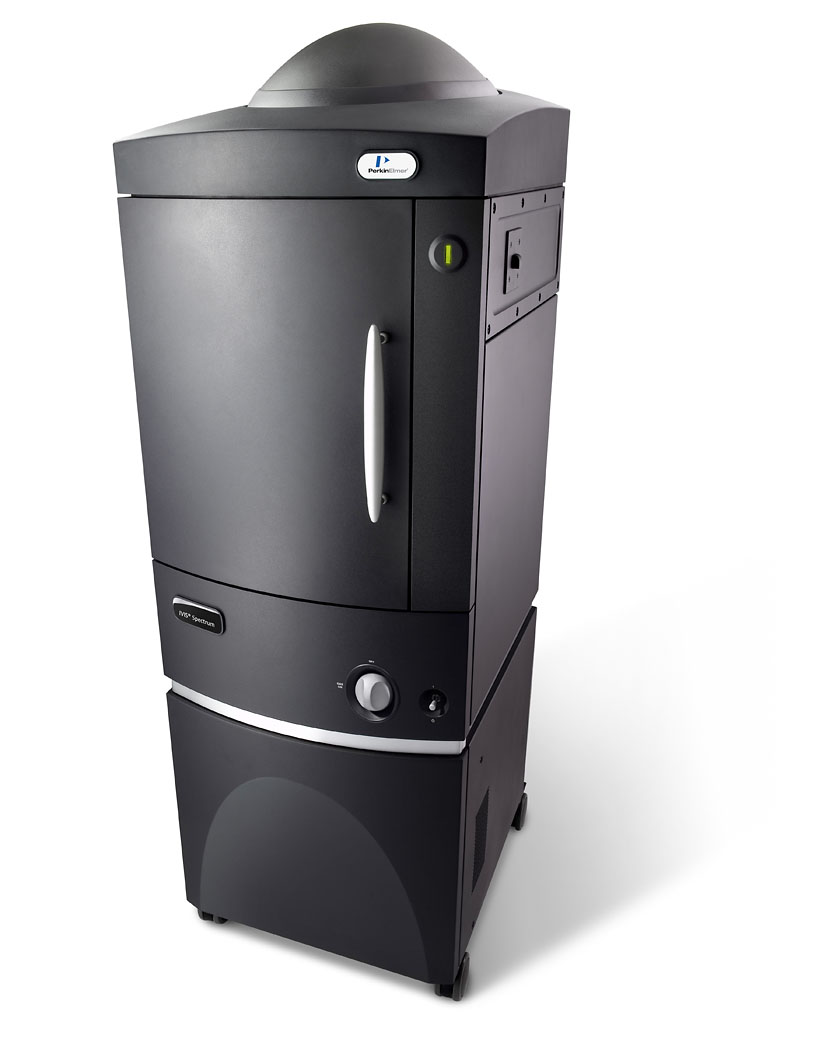 Perkin Elmer IVIS Spectrum system
CapabilitiesThe IVIS® Spectrum in vivo imaging system combines 2D optical and 3D optical tomography in one platform. The system uses leading optical technology for preclinical imaging research and development ideal for non-invasive longitudinal monitoring of disease progression, cell trafficking and gene expression patterns in living animals.

An optimized set of high efficiency filters and spectral un-mixing algorithms lets you take full advantage of bioluminescent and fluorescent reporters across the blue to near infrared wavelength region. It also offers single-view 3D tomography for both fluorescent and bioluminescent reporters that can be analyzed in an anatomical context using our Digital Mouse Atlas or registered with our multimodality module to other tomographic technologies such as MR, CT or PET.

For advanced fluorescence pre-clinical imaging, the IVIS Spectrum has the capability to use either trans-illumination (from the bottom) or epi-illumination (from the top) to illuminate in vivo fluorescent sources. 3D diffuse fluorescence tomography can be performed to determine source localization and concentration using the combination of structured light and trans illumination fluorescent images. The instrument is equipped with 10 narrow band excitation filters (30nm bandwidth) and 18 narrow band emission filters (20nm bandwidth) that assist in significantly reducing autofluorescence by the spectral scanning of filters and the use of spectral unmixing algorithms. In addition, the spectral unmixing tools allow the researcher to separate signals from multiple fluorescent reporters within the same animal.
Features & Benefits
High-sensitivity in vivo imaging of fluorescence and bioluminescence
High throughput (5 mice) with 23 cm field of view
High resolution (to 20 microns) with 3.9 cm field of view
Twenty eight high efficiency filters spanning 430 – 850 nm
Supports spectral unmixing applications
Ideal for distinguishing multiple bioluminescent and fluorescent reporters
Optical switch in the fluorescence illumination path allows reflection-mode or transmission-mode illumination
3D diffuse tomographic reconstruction for both fluorescence and bioluminescence
Ability import and automatically co-register CT or MRI images yielding a functional and anatomical context for your scientific data.
NIST traceable absolute calibrations
Gas anesthesia inlet and outlet ports
Class I Laser Product
Instrument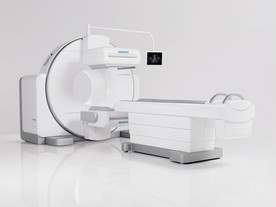 Capabilities
The Siemens Inveon® Multi-Modality System is a versatile platform for pre-clinical CT, SPECT, and PET studies on a single integrated gantry. The system can be configured for PET-CT, SPECT-CT, PET-SPECT-CT or CT only. The large area CT system has a field of view up to 10 cm x 10 cm and resolution down to 20 microns. The PET system can deliver 1.4mm FWHM spatial resolution, and a maximum field of view of 10cm x 30cm. Whole mouse and rat SPECT studies are possible using gamma rays ranging in energy from 30 to 300 keV, with automated zoom for optimising the field of view.
The setting uses a dedicated COBRA reconstruction workstation that runs on a 64-bit multi-core processor to perform real-time reconstruction of an entire mouse within a few minutes. During the reconstructions, the image acquisition workstation is available to perform additional scans, allowing uninterrupted multi-modality imaging and fast throughput. The scanner uses a dedicated sevoflurane inhalation gas anesthesia system, heated imaging chambers and imaging platforms, and the BioVet Physiological Monitoring System to monitor body-temperature, respiration and cardiac activity. A set of two lasers on the outside of the microCT gantry is used to ensure that specimens will be centered within the field-of-view.
In addition to the microSPECT/PET/CT scanner, the radiochemistry suite is fully equipped with a dedicated shielded animal holding room, a well counter, a Packard Cobra II Gamma Counter (model D5010 with 10-detector system (2-inches NaI through-hole crystal detector, 2000 KeV energy range), and a customized animal holding platform for catheter placement and intravenous injection.
PET key features:
20 x 20 LSO crystal array detectors
10 cm x 12.7 cm transaxial and axial FOV ,
1.4 mm FWHM isotropic spatial resolution at the center FOV
list-mode acquisition, static or dynamic imaging
2D and 3D image reconstructions
wide range of PET radiotracers including 18F-FDG, 18F-NaF, 18F-FLT, 11C-Acetate, in addition to many more investigational molecular imaging probes labeled with 18F, 11C, 64Cu, 62Cu, 68Ga, 89Zr, 13N, 15O and other positron-emitting radionuclides.
SPECT key features:
two detectors of pixelated NaI(Tl)-crystals
spatial resolution between 0.8 mm and 1.25 mm with the multi-pinhole mouse-brain collimators
3DOSEM or MAP3D iterative reconstructions
wide range of SPECT radiotracers including 99mTc-Pertechnetate, 99mTc-MDP, 99mTc-MIBI, 67Ga-citrate, 201Tl-chloride, 111In-Octreotide, 111In-Oxine, 123I-NaI, in addition to many more investigational molecular imaging probes.
CT key features:
80 W, tungsten anode, 35-80 kVp standard source
isotropic image resolution of up to 40 µm,
FOV from 4.4 cm x 4.4 cm up to 10 cm x 10 cm
Nuclear imaging techniques PET and SPECT allow imaging of radiotracer molecules at picomolar concentrations, and they provide uniquely non-invasive, non-toxic, quantitative, longitudinal and functional images of tumor biology. They are also useful in diagnosis and for helping to understand the mechanisms of tumorigenesis. PET is more sensitive than SPECT, whereas the spatial resolution of SPECT is better than that of PET in small-animal imaging.
CT provides a high degree of spatial resolution that is well suited for tumor phenotyping and anatomical detail, and is is generally label-free. However, it lacks molecular specificity.
To complement functional imaging with anatomical detail, it is crucial to coregister molecular data collected through PET or SPECT with the more precise association of signal to anatomical regions shown on CT (or MRI).
Visit here here for more information on the Inveon PET-SPECT-CT Siemens trimodal system. 
Instrument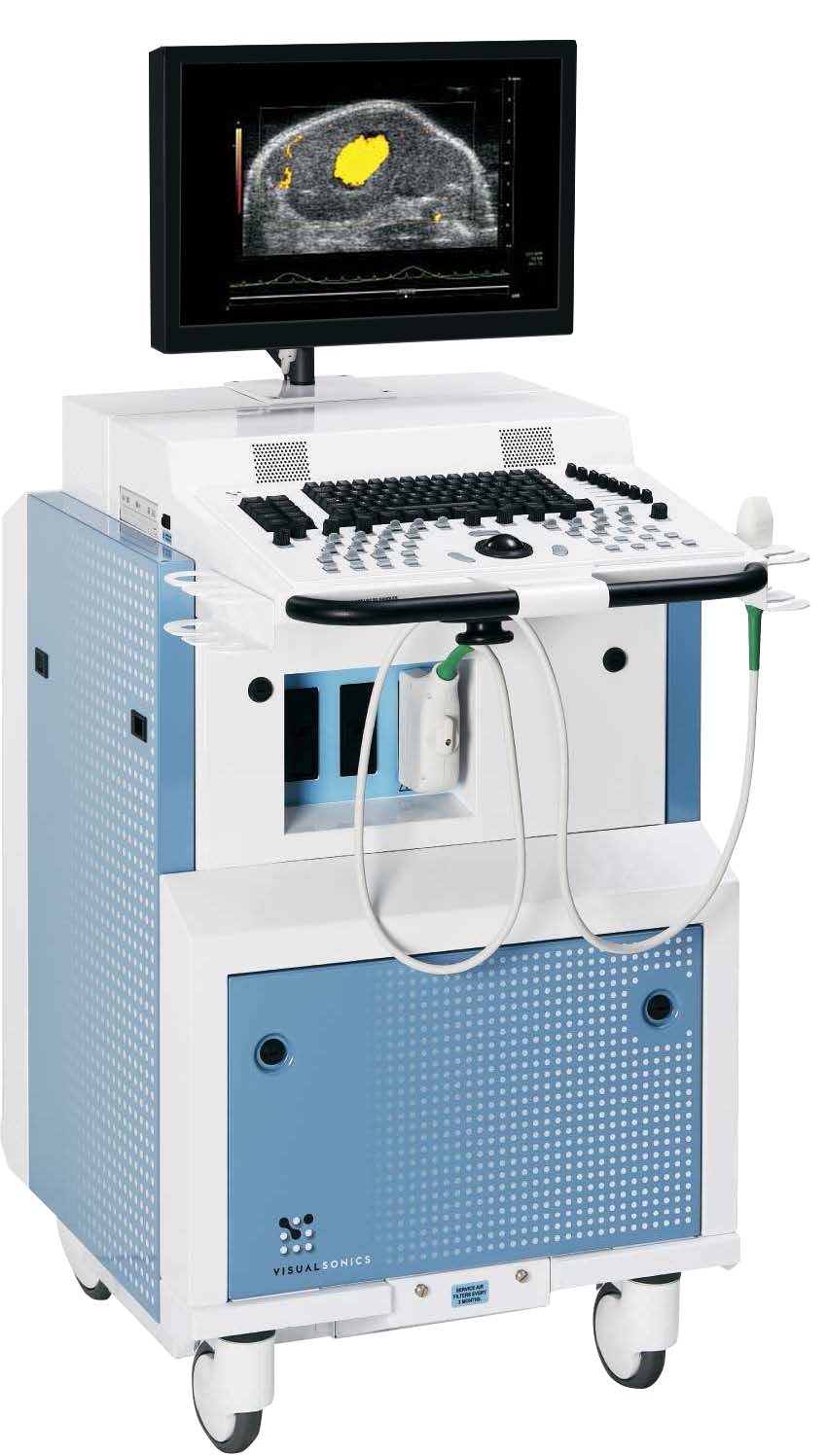 The Vevo® 2100 system expands the functionality, flexibility and image quality of the earlier Vevo 770 system
Capabilities
The Vevo 2100 operates at frequencies never before achieved with solid-state array transducers. 

The new MicroScan™ transducers provide increased frame rates, superb contrast, unrivaled resolution and a wider field of view.
Features Include: 
Superior resolution and image uniformity through entire field of view
30 micron resolution
Frame rates up to 740 fps
Expandable Imaging and Processing Options
Color and Power Doppler Modes for blood flow quantification 
M-Mode single line acquisition for high-temporal resolution in LV functional analysis
3D-Mode Imaging & Volume Analysis
Nonlinear Contrast Imaging
VevoStrain™ Analysis software for cardiac research
Advanced measurements & quantification
Software analysis and data management:
Key Features
Ideal for long term studies with ability to add images/data to an existing study
View images simultaneously for consistency and comparison 
Reserve time on the system - perform data analysis on an off-line computer
Data Management and Export
Analyze, label, annotate and archive images and studies through a flexible, open-architecture system. 
Export a list of acquired studies/series/images to paste into lab book 
Easily export with and without annotations/measurements (without duplication of data) 
Easily export with and without physiological parameters (without duplication of data) 
Export data as TIFF, BMP, AVI uncompressed AVI, MS Video9 and DICOM
User Fees
Charges will be incurred at a one-hour minimum, and ½ hour increments thereafter, according to the fee schedule below.
User Fee Table

| Hourly Rates | In vivo scanning | Ex vivo and method development | Technician operator |
| --- | --- | --- | --- |
| MRI | $246 | $65 | $65 |
| PET/SPECT/CT | $126 | $65 | $65 |
| Ultrasound | $90 | $65 | $65 |
| BLI/FLI (IVIS) | $55 | $55 | $65 |
| Image analysis | $65 | $65 | $65 |
| In vivo/pharmacology procedures | $65 | $65 | $65 |
The hourly charges for in vivo scanning cover the cost of consumable supplies during experiments.
24 hours notice is required for canceling imaging sessions.  A fee equal to one-hour of the instrument time will be charged if you fail to provide a 24 hour cancellation notice.  Booked instrument time slots that go unused will be released to other users after 30 minutes past the scheduled start time.